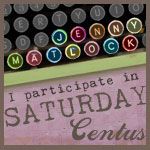 It's week 98 of Jenny Matlock's Saturday Centus writing challenge and she's written a prompt and chosen a word limit centered around the the number, "98" for this week's assignment. You can join in the fun by clicking on the button to the left.
So let's get to it...join me for the 41st installment of
The Wall
, a continuing story based solely on the weekly prompts at
Saturday Centus
...
~She brought out a small, well worn leather journal from her apron pocket. In it were photos of Matthew, her family and friends...including Grandpa. She lovingly turned the pages and related bits of history as she fondly ran her fingers over each one as if to communicate with the folks pictured there. The smile that played over her face spoke as clearly as her words. Inside the cover you could read her name, written in faded script, and in the corner, the price of the book...it was only ninety-eight cents...a very small price for so many dear memories.~
Pondering My Meanderings...
with much herbal love,
Wanderer