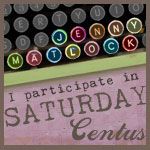 It's time for Saturday Centus and we have a dilly of a challenge this week. 150 words plus the 6 word prompt (in purple) - all dialogue! Click on the button above to join the Centus and read what creative things others are writing with these guidelines.
Since you are jumping into my story mid run, you can read the first 15 posts @
The Wall
.
We once again join the saga:
~"Are we going to make our move? That key isn't the only thing we need."
"Quiet! You blithering idiot! Your voice could waken the dead!
Are you seriously ordering another martini?"
"Get off my back! You're not my mother! That kid was making enough noise to cover an explosion!"
"Calm yourself! We'll wait until she's left the room...for certain this time! We can't afford to make any more mistakes. It has to be hidden somewhere in that room."
"What if we get caught? We were lucky last time. She hasn't reported it to the police...yet. Let's hope she's either scared enough not to blab or forgets all about it!"
"Well, that's not bloody likely, now, is it? She doesn't seem like the type to frighten easily...much like her grandfather."
"Let's just get rid of her!"
"No! You fool! If we can't find the letter...or his journal...we'll need her."~