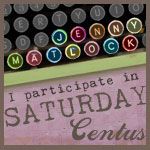 I suspect this week's prompt from Jenny ties in with some events in her life this week. She's given us 100 words plus our prompt to write a tale. I'm still continuing my story of
The Wall
that centers around some family intrigue.
Let me take a moment to share a few photos of a lovely lady who passed away last week. This is my husband's grandma who lived 99 incredible years and loved her family so much ~ all 80+ of them!
We'll miss her very much.
And now my take on this week's Saturday Centus prompt.
~These words were written on the back of the photo. I looked questioningly at Anna. She smiled, nodding her head....the man was Grandpa. He had been Matthew's best man. Their hospitality to me no longer spoke only of Old World charm but of deep friendship.
Another picture showed Anna in a large chair with children scattered around her feet. She was being honored by her family on her wedding day.
The chair dominated the small room
like a throne. She looked like a princess in her wedding dress.
As I opened my mouth to ask a question, she put her finger to her lips and winked.~
Pondering My Meanderings...
with much herbal love,
Wanderer