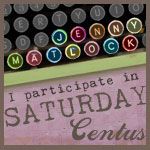 One bit of extremely good news, one of extremely bad news and a daughter farming in Europe is preoccupying my mind this week.
Here's Jenny's prompt...5 sentences of 5 words each for a total of 25 with a theme of "Good things Come in Fives."
Here's my spin on that in relation to
The Wall
.
Moving to a new home.
Married to a fine man.
Planning a new life together.
Dreams of children frolicking about.
Good things but anxious thoughts.
Pondering My Meanderings...
with much herbal love,
Wanderer