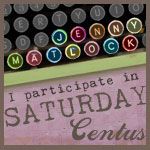 Hey, It's shortly after 6AM on Saturday morning and guess what I'm doing? I'm pondering a story for my weekly Saturday Centus prompted by Jenny Matlock. If you'd like to join the fun just click on the button @ the left.
If you've been here before, you know that I've been trying to keep a story going for the past 23 weeks. It's been so much fun! To read my story, which just so happened to start on a day when the prompt was about an ancient wall and 200 words long, you can visit
The Wall
page above or click
HERE.
Jenny is being kind this week and our prompt is kinda a continuation from last week's picture prompt but from a different angle. Here's the photo. See player # 6? Today is her tale in 100 words or less. Here we go with the latest story within a story.
~ Across the circle was player #6, one of the tallest players on the team. Kinda quiet and a little more low key than some of the others, it seemed like there was something on her mind. Then I saw her raise her head slightly and peek at Tommy. He smiled and sorta waved at her. Her head popped up and the smile that lit her face was beautiful! This wasn't all about soccer, it was about finding yourself and realizing that someone else was noticing, too.
My scare from the night before seemed so far away...and then I saw him. ~