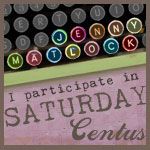 Join Jenny Matlock and friends for her weekly writing challenge @ Saturday Centus. Here's the way it works...Jenny gives us a prompt of some kind, either photo, phrase or both and a word limit. We take it from there and see what comes to mind and how well we can apply it within these guidelines. Then we link our post up to Jenny's blog so we, and everyone else, can see each others stories. Its amazing to see the different ideas these prompts inspire. Some happy, some sad...some silly, some dark...why not join us? Add your own story to the list! Just click the Saturday Centus button at the left.
If you follow Jenny at all, you'd know that she loves Halloween. In her own way of playing trick or treat with her story writers, she's given us a photo of...black. That's right, she calls it a "Study in Black" - with a word count of 25 words max.
So, you little trickster, here's my attempt to weave the blackness into my story of
The Wall.
Last week, I was standing outside an old, abandoned house at the edge of a small town. I'd been drawn there...wait a minute...we don't know that yet but I think it had something to do with my grandfather... and his diary. Anyway, it was evening and...
~ Twilight fell like a curtain. The doorway was suddenly dark, like a study in black. Should I go or stay? My knees began to quake! ~