When I opened my eyes, the room was dark. I must have been out for several hours. Looking around I could see that my room had been ransacked! My head was buzzing and my hair felt sticky with blood. As I staggered to the mirror, I saw a small paper propped against the glass.
..and the sign read...
"We have the key. Wait here until you hear from us."
How did they know I'd found it...I hadn't told anyone, not even John. What did they want with it? I didn't know what to do next. Tears came hot and fast as I sunk to my knees.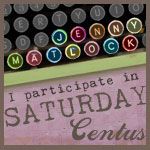 Pondering My Meanderings,
Wanderer