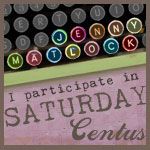 Jenny's prompt for this week's
Saturday Centus
sounds kinda melancholy. She's given us a word limit of 100 words plus the prompt to use to create our tale.
If you're new here and care to know where the foundation for today's portion of The Wall started, you can click on the title to read the whole story from the beginning. It's been 39 weeks since I first joined

Saturday Centus.

That was the beginning of my tale and I try to weave each week's prompt into the ongoing story line.
Please click on the button at the top to share your own story inspired by the weekly prompt and to read what others have to say. It's amazing to see how many different directions a word prompt can go!
Here's the lasted addition to The Wall...
~ Later, Anna knocked on our door carrying a tray of tea and cookies. Wally had gone with Matthew to get supplies. After pouring tea, she sat down near the window and gazed thoughtfully through the panes. After a few moments, she turned to smile at me.
Her story began with the end of the war and her marriage to Matthew. Moving into the inn with his family, who had been the proprietors for nearly 125 years, she'd felt at home. Anna left her folks in the south and admitted that
saying goodbye was harder than she thought...
but her new life, though dull to some, excited her. ~
Pondering My Meanderings...
with much herbal love,
Wanderer