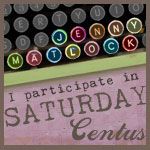 Today's Saturday Centus was writtern from a picture prompt rather than words...the word limit...100! Keeping on with the The Wall...the story goes...
After dinner, I decided to take a walk, careful to keep to the main street, among the crowd. But I felt uneasy and returned to my room. The humid air hung about the window long after the light had faded.
Despite the events of the day, I fell quickly asleep. My dreams started out peacefully reminiscing family times before Grandfather's passing. One, in particular, was of a mid-summer vacation to New Mexico to visit a writer friend of his. It was so hot, you could fry an egg on the pavement! It was my first time to swim in a pool...
Pondering My Meanderings,
Wanderer