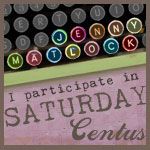 Jenny's taking the day off! One of her readers had some story prompts to share so here's one from Nonna!
Please click on the
Saturday Centus
button to the left to join in with a story of your own or to see what others have to say.
We have a 100 word limit plus the prompt to give wings to our tale.
So here we go!
~But I was wrong.
We read that diary over and over without finding anything we thought was significant. A few things didn't make sense. Like a war mission that ended near here. Or when he overheard a strange conversation in a pub...
One day I fell asleep reading it for the umpteenth time. When I woke up, the book had fallen into a heap on my lap. I noticed the corner of a scrap of paper sticking out of the binding.
The words were written in Grandpa's hand and they sent a chill up my spine.
"...
we know where all the bodies are buried
....WMM040727 has been filed."~
Pondering My Meanderings...
with much herbal love,
Wanderer