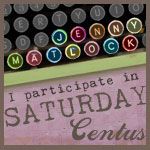 Hey, It's week number 17 in the continuing saga of
The Wall
. I'm an early riser so I tune in at 6AM to get the latest story prompt/challenge from Jenny Matlock and start writing! I'm having so much fun!
Today the parameters are 100 words plus the prompt (in purple) for a total of 110 words, a picture if you like, any writing style. Have at it!
To join the fun, click on the
Saturday Centus
button at the top.
If you're reading here for the first time or missed some of the story and want to see what's going on, click
HERE
to read all 17 weeks of
The Wall
.
Week #17 of
The Wall
...
~ I couldn't believe my ears! Having entered the pub through the back, I was still out of sight. There were two men sitting at a small table in the corner. Both had their backs to me. The British voice was definitely the same one I'd heard in my room two nights ago...and he was right about me. I had been afraid but now my resolve hardened. I knew I was in over my head. I couldn't tackle this alone anymore. I decided to call Wally. He'd know what to do.
Once in my room, I dialed. But the operator said,
"The number you have reached is no longer in service."
~