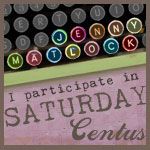 Good Morning! It's been an unseasonably warm week here in central PA with temps reaching near 55° F a few days! I'm sure we're in for a cold snap now that the groundhog has seen his shadow! Yes, we're from the same neck of the woods as Punxsutawney Phil, the famous prognosticator!
Jenny's focusing on some important things at home this week and taking the prompt from Nonna's suggestions. She's given us 100 words plus the prompt for a total of 105. Click on the button at the left to read other stories or share one of your own.
I'm still plugging away at my ongoing tale that started 35 weeks ago with a prompt about a wall and a generous 200 word allotment. Thanks for following along as the story grows.
~The inn's library contained a few military books. Wally found Matthew's name in the register. He'd fought for the allies, too. We tried to steer the conversation toward his service days but he seemed quiet and thoughtful.
Later, He and Anna sat together in the study, talking, like

two peas in a pod

. We headed to our room around 10 PM. Matthew followed us, disappearing up a flight of narrow stairs behind a small door at the end of the passage.
We heard him scuffling through boxes and bits of furniture...then a loud click and a slow, grating creak as a rusty trunk lid opened. ~
Pondering My Meanderings...
with much herbal love,
Wanderer