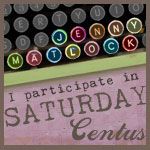 It's time for
Saturday Centus
with Jenny and friends! Even though Jenny is not feeling well she's put forth another challenge to keep us on our toes. Feel better soon, Jenny!
Today's writing prompt is
Friday night football
with a limit of 100 other words for a total of 103. To join the fun, click on the button at the left.
So far, I'd visited my family's native country looking for answers, discovered an ancient key, been hit over the head, had my room ransacked, the key stolen and overheard 2 thugs discussing whether they should kill me or not...I needed help! To read the full story, click
here.
In an effort to keep
The Wall
going, here's my centus.
~That's strange. Maybe I'd dialed the wrong number. A sinking feeling crept over me. I dialed again. It was ringing!...and ringing. The television in the next room was blaring the
Friday night football
game. Maybe that's where he is...at the high school game. I let it ring a long time before hanging up.
I sat by the window looking out at the meandering downs, gentle hills and majestic mountains. The cool rains had brought out the fall colors. Everything was blanketed in a patchwork covering with dusky purple edges where the heather faded.
I waited about an hour and dialed again.
No answer.~