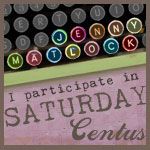 This post is in response to a writing prompt from Jenny Matlock and her meme, Saturday Centus. This week's prompt is in bold, italic font. The allotted word count was 150 plus the 4 words of the prompt. My spin on the Centus for the last 11 weeks has been a continuing story based on a few memories, some family history and my imagination. If you'd like to read the story from the beginning, click
here
.
Without further delay,
The Wall
continues...
~He'd tell stories about the railroad and how hard the men worked. It was a time of segregation and the Klan, war and depression, increasing industry and women leaving home to support their families while the men were overseas. Once women began to enjoy their independence, they weren't so quick to come home and many couldn't because their husbands and sons never came back.
I often wonder about those times and thought how brave those men must have been. Then I remembered that many were just young boys with visions of glory that ended quickly in a hastily dug trench on foreign soil. The women, just girls who had to carry on.
I snapped out of my reverie and thought, "
If I die young
, who will carry on my quest?"
I'm not really that young anymore but still much younger than grandfather was when he died at 87. The thought gave me courage.~

I'd like to thank everyone who has been following this story and leaving such encouraging comments. It means alot to me and spurs me to keep it going. It's also fun to read your takes on the prompt.
Have a great week!
Pondering My Meanderings,
Wanderer