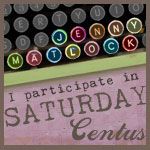 She's done it again! Jenny has pushed us to stretch our minds and come up with a 106 word post including the story prompt, "
I planted a little story seed
" as the basis for today's
Saturday Centus
. That's what Jenny did for me 20 weeks ago when the prompt "the wall was built long ago" was the seed that started this adventure!
Click on the link above or the button at the left to join the fun and see what others thought of when they read the prompt. What comes to mind when you think of....
I planted a little story seed
? Why not write it down and share it with us?
Last week in the story of
The Wall
, I had walked to a run down, deserted house at the edge of town only to find that it wasn't quite as deserted as I thought. Click
here
if you're interested in reading the 19 weeks of the story leading up to today or if you missed last week and want to know what's happening.
~ I considered running but curiosity got the best of me. Making a wide berth around the edge of the porch I stepped closer.
"You'll have to believe me.... I know who those men are and why they took your key. They've gone off on a tangent because

I planted a little story seed

while they were drinking at the bar. But they'll be back. You shouldn't be alone."
Somehow, I instinctively trusted the speaker. But I wanted to get back before dark. As I started to move away from the house a shadow in the doorway caught my eye. ~