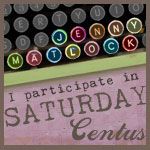 Week 6 in my ongoing saga of
The Wall
based on storyline prompts from Jenny and friends. Join the linky and see what others are writing by clicking on the Saturday Centus button. Here we go with a prompt and a 25 word limit for this week's entry...

As I sat there crying, out of frustration, confusion and fear, I realized that I'm not getting any younger... an adventure like this might be more than I can handle...


Since it's a little tedious to go back to each individual post if you want to read the story from the beginning, I've put all the posts together on The Wall page. Just click the tab above.


Pondering My Meanderings,
Wanderer