In response to the
weekly prompt
from Jenny Matlock's Saturday Centus. Word limit for today - 50 words plus the prompt...
The Wall
continues...
Fighting on the street below interrupted my sleep but quickly dispersed when the angry innkeeper stepped outside.
Drifting off to another childhood memory...Grandfather's cabin beside a tiny lake up north. Swinging together on the porch swing each evening, he sang, "You are my sunshine, My only sunshine...", until my head began to nod.
In case you're wondering what this is all about, you can read the continuing story @
The Wall
page.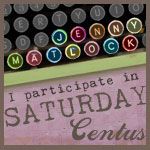 Pondering My Meanderings,
Wanderer