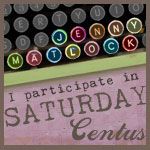 Striving to continue the saga of The Wall based on the ever intriguing story prompts and ever dwindling word allowances of Jenny over at Saturday Centus. Here we go...
We need to know the truth.
Before I die, I want to

restore my grandfather's honor.~

Did I mention how much I love the theater?
Pondering My Meanderings,
Wanderer