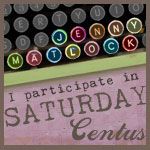 Jenny's being spunky today with a dandy of a challenge ...because she's like that! We don't have a word prompt to work into our tale but we have 6...yes, you read that right!...
six
words to write an "autobriefagraphical" or autobiography! Yikes!
I don't want to break my streak of continuing the story of
The Wall
so here's a little truth about me that fits in with the theme and the story.
~ "Searching for answers, intrigued by history." ~
or aside from The Wall...
"Living my life moment by moment."

If you chose to say something about this post, and I dearly love hearing from you, my preference is a comment below. But if you're having trouble, please email me instead.

Pondering My Meanderings...
with much herbal love,
Wanderer