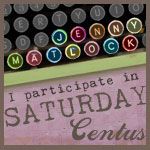 In the spirit of the holiday season, Jenny's given us a picture prompt that made me smile and a 50 word limit. Click on her button to the left to see what others are writing or to link up your own story inspired by Jenny's creative spirit and guidelines.
Join me for the continuation of an ongoing story..
.
The Wall.
This little snippet might not make sense to you unless you've read the previous post. You can do that
here
or go to
The Wall
page to read the story from the beginning.