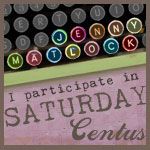 It's been so much fun writing a little story line from Jenny's weekly prompt on
Saturday Centus
. The idea is to read her prompt and the guidelines for each week's writing style and word limit, and create your own tale. Then link it up to Saturday Centus along with the others who've chosen to participate. It's been amazing to see the different types of stories that come from the same starting point...some serious, some silly, some poetic, others free style. Many are moving or strike a chord of camaraderie.
Click on the picture to the left and join us as we take on this week's challenge from our fearless leader! We're allowed 100 words plus the prompt for a total of 107.
As you may know, I'm continuing a story, called
The Wall
, that I've been working on for 27 weeks. To see where I'm coming from, or rather where I've been, please click
here
.
This week's centus...
~ My heart melted as I remembered that tender time, so long ago.
I sat still on my stool for a moment, frozen in time, wondering what to do, now. Then I thought, "You know,
it doesn't have to be that way
. It's what you've wanted all along. The outcome is up to you."
Turning slowly on my stool, I looked into his eyes and said with a smile, "Yes, please...with ketchup."
He smiled back, once again, in obvious relief. He pulled me close and held me tight. All the fear and frustration seemed to drain away. I knew everything would be alright. Now, I'm safe. ~