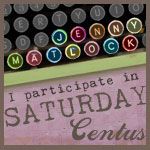 Jenny! You wicked girl! This week's challenge is to write a lyrical rhyme to the tune of
Twinkle, Twinkle, Little Star
with 32 words including the prompt
In the Autumn
. Click the Saturday Centus button to join the fun and read other rhymes.
In a effort to write a continuing story with each new prompt, I've been adding to my story,
The Wall
for 14 weeks. Last time I wrote:
~
She said the recipe had been handed down from her grandmother who baked bread and pizza in an outdoor oven.
As we sat there sharing stories, a boy of about 12 years came running down the hall, slowing to a walk as he neared my open door. He stopped outside and smiled impishly.
"Mother, may I ride my bike to Tommy's house?" After questions about homework and chores were answered to her satisfaction, she sent him off with a warning to be home before dark.
We laughed as he dashed down the hall and out the door with wings on his heels.~
Here's my contribution today...
~He sang this verse;
"Swirling, Twirling, down they fall,
Gently sweeping over all.
Spreading color everywhere,
Piling up with nary a care.
In the Autumn
, leaves alight
Painting such a lovely sight!"~