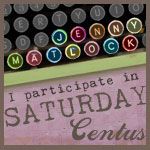 Here's the latest from the Saturday Centus writing prompt created by Jenny! Up to 100 words plus the 7 word prompt (in purple). Read the ongoing story, if you like, by clicking on
The Wall
page tab at the top of this blog. Click on the Saturday Centus button above to join the fun or read how others used the prompt to inspire a thought or story.
~I was surprised to see his wife behind him smiling timidly as he handed me the tray. She quickly dismissed him, as only women from the old country can do, and came in to see that I was comfortable.
The heavenly aroma from the tray made me realize that I was famished! What I saw, when she lifted the cloth, was a large slice of oily dough covered generously with bits of feta and mozzarella cheese, black olives, marinated artichoke hearts, fresh tomatoes and red onions! I thanked God for this blessing and dug in. Between bites, I asked, "
What kind of a pizza is this
?"~
You can find the recipe for this
pizza
on my other blog, The Woodwife's Journal. Enjoy! It really is delicious!