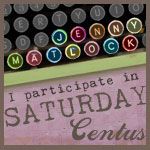 The story of
The Wall
continues as we follow Jenny's lead with story prompts from
Saturday Centus
! Today's guidelines are 100 words plus the 3 word prompt, ~
Mother may I
~ for a one time paragragh or an ongoing theme. Click the button above to join the fun yourself or read stories and ideas shared by other writers. This is week 71 for the Centus and week 14 for
The Wall
. You can read the story from the beginning by clicking on
The Wall
page tab above.
The Wall #14
~She said the recipe had been handed down from her grandmother who baked bread and pizza in an outdoor oven.
As we sat there sharing stories, a boy of about 12 years came running down the hall, slowing to a walk as he neared my open door. He stopped outside and smiled impishly.
"
Mother, may I
ride my bike to Tommy's house?" After questions about homework and chores were answered to her satisfaction, she sent him off with a warning to be home before dark.
We laughed as he dashed down the hall and out the door with wings on his heels.~