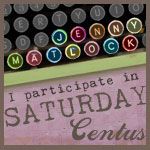 Our host, Jenny Matlock is feeling adventurous today and has given us a two part challenge that kinda leaves you hanging...literally! This week we have 100 words plus the prompt to set up a cliffhanger situation both with writing style and a literal prompt. You'll have to come back next week for the conclusion!
Don't forget to click on the
Saturday Centus
button at the left to read other story lines inspired by this prompt or to link up your own.
As a bit of an intro, the innkeeper, Matthew and his family have been playing host to me since my arrival and now to my husband, Wally, who recently joined me under rather mysterious circumstances. The story, from the beginning, nearly 8 months ago, can be found in one place by clicking on
The Wall
.
So for the ongoing adventure in the saga of
The Wall
, hang on for dear life!
~ We decided it would be better to mail John's letter from the post office in the next town. Rather than send it off with one of the villagers, Wally wanted to take it himself.
Around 6 AM, he borrowed the innkeeper's car. The town was only 20 minutes away so he'd easily be back in an hour. There was still no sign of him at 9 AM...I was getting antsy!
The delivery boy arrived for work out of breath. With a worried look on his face, he pulled the innkeeper aside. On his way across the moor, he'd seen Matthew's car...
hanging off a cliff!
~
Pondering My Meanderings...
with much herbal love,
Wanderer
Be sure to check out my new Facebook Page
@
http://www.facebook.com/Woodwife61
!
Hope you "Like" it!