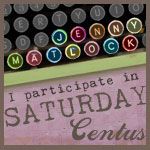 It's the beginning of a new year and new challenges from my friend Jenny Matlock! This week's Saturday Centus allows 100 words plus the
prompt
for a total of 102. Click on the button to the left to join in and/or read what others are writing from this story prompt.
Let's see where we can go with it in the continuing tale of
The Wall
.
~ With the holidays behind us, we decided to let the authorities in on what had been happening since my discovery of the key in the wall weeks ago. Especially since the car episode on the street Christmas Eve.
There had been no word from the fellows who'd knocked me out and stolen the key but it was obvious they still wanted something from me. Before Christmas, I'd resolved to back off but now that Wally was here, I thought, "
Resolution, Schmezolution!
" I need to get to the bottom of this!
Maybe it was time to finish the letter to my cousin, John.
~
Pondering My Meanderings...
with much herbal love,
Wanderer