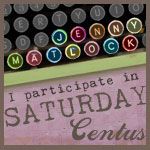 So...I'm torn.
Today's assignment was to write a 150 word epilogue.
True, it was an epilogue to our cliffhanger and it's conclusion.
My first inclination...because I'm such a poop...
was that this was my hint,
my nudge,
my Waterloo...
I guess that's a little dramatic...
to bring this continuing tale to an end.
I told myself that everyone had had enough.
Jenny's trying to be kind.
They are weary and ready to move on.
I mean, it's been the same old thing for the last 32 weeks.
So here...
without making this any more painful than it already is,
in 150 words...
is the epilogue,
the conclusion,
the final paragraphs in the saga of
~ The Wall.
~
Wally died as a result of the beating the thugs had given him after dragging his dazed body from the car as it hung over the cliff. Matthew admitted to being in on the plan and was taken into custody for receiving a large sum of money in exchange for ratting him out. While at the scene, they broke into my room again and tore pages from grandpa's ragged journal.
John thought a return letter might not get through so he met me at the inn a few days later where he learned of Wall's demise and joined me in a memorial service under the trees near the abandoned house.
We traveled back to John's home to examine the trunk.
The rusty lock opened easily.
The trunk was empty.
All the treasures Grandfather had shown us as children while telling us tales of his adventures...gone.
The mystery...dead.
The End.
But then, I thought to myself, NO!...I'm having too much fun writing this story!
I'm not ready
to give it up,
to throw in the towel,
to allow those thugs to get away with this!
So here's my epilogue to the cliffhanger event (which is really what she said) in the ongoing story of ~ The Wall!
~ Looking back on that day, it still frightens me. Thankfully, Wally wasn't hurt badly and the damage to Matthew's car was minimal. The thugs had followed him from the post office and ran him off the road toward the cliff. After dragging him out of the car, they mucked him about to make sure he'd gotten the point.
John received the letter and examined grandfather's trunk. He couldn't find a way to get it open but he remembered many of the things Grandfather had shown us as children as he told us tales of his adventures. The sketch I'd sent along of the emblem on the key matched the lock.
Wally and I perused Grandfather's journal for any clue as to why those fellows might have wanted the key but there were only bits and pieces of information that seemed to tie in.
I thought the mystery might end there. ~
Pondering My Meanderings...
with much herbal love,
Wanderer