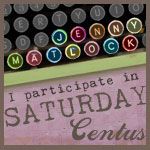 Based on the writing prompts of Jenny Matlock, this week's entry may contain up to 53 words including the prompt, "Laugh out loud" and a picture if desired. Click on the Saturday Centus button to read the other entries or share one of your own.
The continuing saga of
The Wall
...
~Grandfather loved playing his fiddle and singing! He'd pull it out of the chest in his room and say, "Sit a spell and I'll play you a piece!" I laugh out loud remembering that he never called me by my name. After listing his daughters, he'd end at Sharry and that stuck.~
You can read the rest of the story by clicking on The Wall tab at the top of the page.
Pondering My Meanderings,
Wanderer