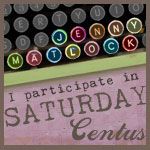 It's that time again! For today's Saturday Centus, Jenny's given us a picture prompt and a 100 word limit.
<<< Click on the button at the left to view the rules and read the other stories inspired by this photo. Join us as we write what we see from the second story window of the building in the back. Link up a story of your own.
Still trying to continue the story after my frightening experience at the old house, here's my next installment in the saga of The Wall.
~ Next day, the innkeeper's son, William, invited me to his soccer game. I'd had quite a scare and wanted to be with other people.
From the school window I watched the kids circle up for their pregame prayer. The goalie, a little girl in pink, stood at the center. I noticed the boy with the carrot top as he pushed his way between William and Tommy to stand by the little girl with the ponytail. She clenched her fist, stuck her tongue out at him, then looked adoringly at William. He stood a little taller and pretended not to notice. ~